View or download this as PDF by clicking here.
Written by Caroline Snider:
Hydrangea barbara (BAR-bair-ah) formerly known as Decumaria barbara is a species plant in the hydrangea family.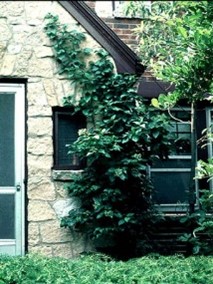 Common names: Climbing Hydrangea and Woodvamp
Hydrangea barbara is a woody vine reaching 30 feet by attaching arial rootlets and has smooth, shiny, round to oval deciduous leaves and fragrant flowers. The individual flowers are small and pale white with numerous stamens held one to two feet from climbing surface. It will only bloom when climbing and then only on new wood. It is typically found growing in swamps, bottomlands and moist forests. It will cover buildings, trellises, walls, arbors or can be trained as an espalier.
Plant Hydrangea barbara in partial sun to partial shade in moist to wet fertile acidic soils. It does best in afternoon shade. The glossy green leaves cover the plant from top to bottom making it ideal to hide fences or buildings or use as a privacy or screening plant.
The flowers appear in May or June. Old vines sometimes bear showy, urn shaped fruit.
The leaves turn white to yellow in the fall. Propagate it from soft wood cuttings as it is quite difficult to grow from seed. The only complaint against it is also a feature- It is slow growing!
This native climbing hydrangea is a great vine for moist southeastern gardens. It is seen growing on walls and trellises. One very striking use of H. barbara is when it is planted on top of a retaining wall and then looped over the wall and caught up at times to form a scalloped edge- as seen at the National Arboretum outside Washington, D. C. It will attract butterflies and bees.