Greetings,
My name is Jenny Turner, Promotions Assistant of New Directions in the American Landscape (NDAL.org), an educational series dedicated to the art, culture, and science of ecology-based landscape design founded in 1990 by Landscape Designer Larry Weaner. I am reaching out with registration information regarding our exciting live, virtual program this summer, Ecology-based Landscape: An Intensive 6-Part Course, with Larry Weaner and native plant expert Ian Caton.
Larry's sessions will cover open and canopied landscapes, from meadows to shrublands to woodlands. Then he will share ideas on how to apply an artistic overlay to these native plant compositions. Ian will follow up with a discussion on specific characteristics of plants applicable to ecology-based design, which are rarely considered in traditional horticulture. Register for the Full Bundle or individual sessions.
One past Intensive Course attendee expressed: "Your knowledge is invaluable! This session, and the entire course has been a gem."
We hope that you can join us!
CEUS will be offered (18 LA CES, APLD, & NOFA), as well as a 100+ page course manual. Join live and/or watch the recordings at your leisure up to 3 months after each session date. This series is cosponsored by Wild Ones – Native Plants, Natural Landscapes.
We are grateful for your engagement and we look forward to seeing you there! Please don't hesitate to reach out to me with any questions. More information can be found by clicking here.
All my best,
Jenny Turner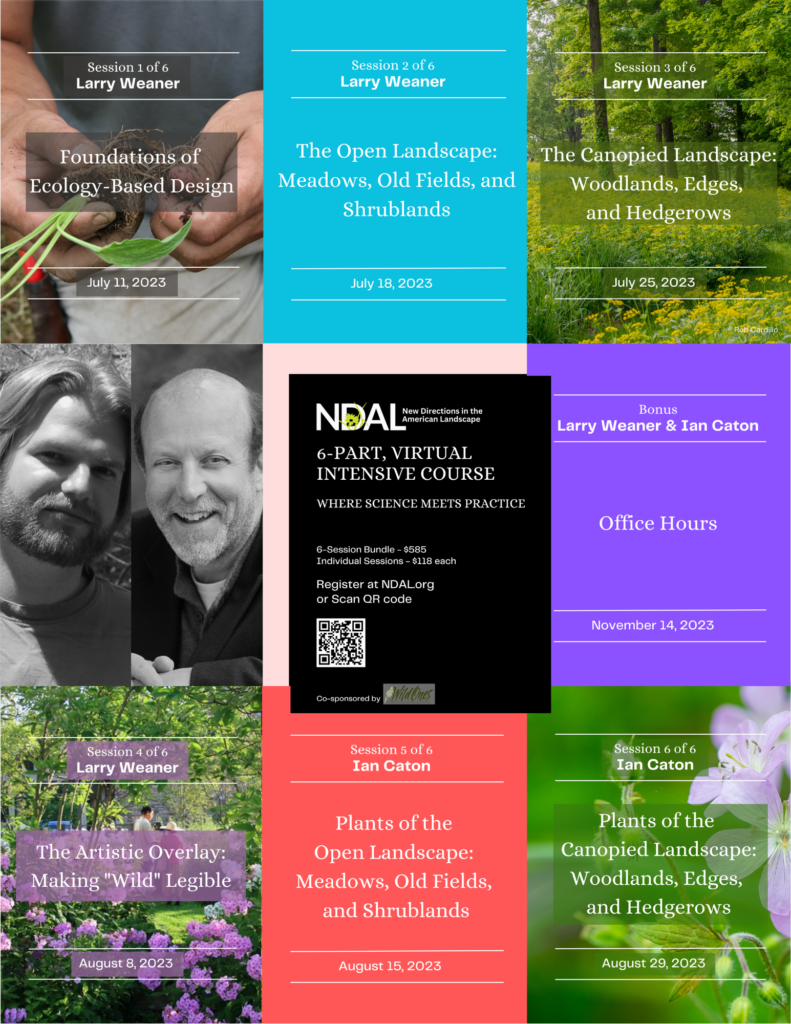 New Directions in the American Landscape
Ecology Based Landscape Practice: An Intensive 6-Part Course
Where Science Meets Practice
Session 1 of 6: Larry Weaner, Foundations of Ecology Based Design (July 11, 2023)
Session 2 of 6: Larry Weaner, The Open Landscape: Meadows, Old Fields, Shrublands (July 18, 2023)
Session 3 of 6: Larry Weaner, The Canopied Landscape: Woodlands, Edges, and Hedgerows (July 25, 2023)
Session 4 of 6: Larry Weaner, The Artistic Overlay: Making "Wild" Legible (August 8, 2023)
Session 5 of 6: Ian Caton, Plants of the Open Landscape: Meadows, Old Fields, and Shrublands (August 15, 2023)
Session 6 of 6: Ian Caton, Plants of the Canopied Landscape: Woodlands Edges and Hedgerows (August 29, 2023)